26. September 2019
Kangding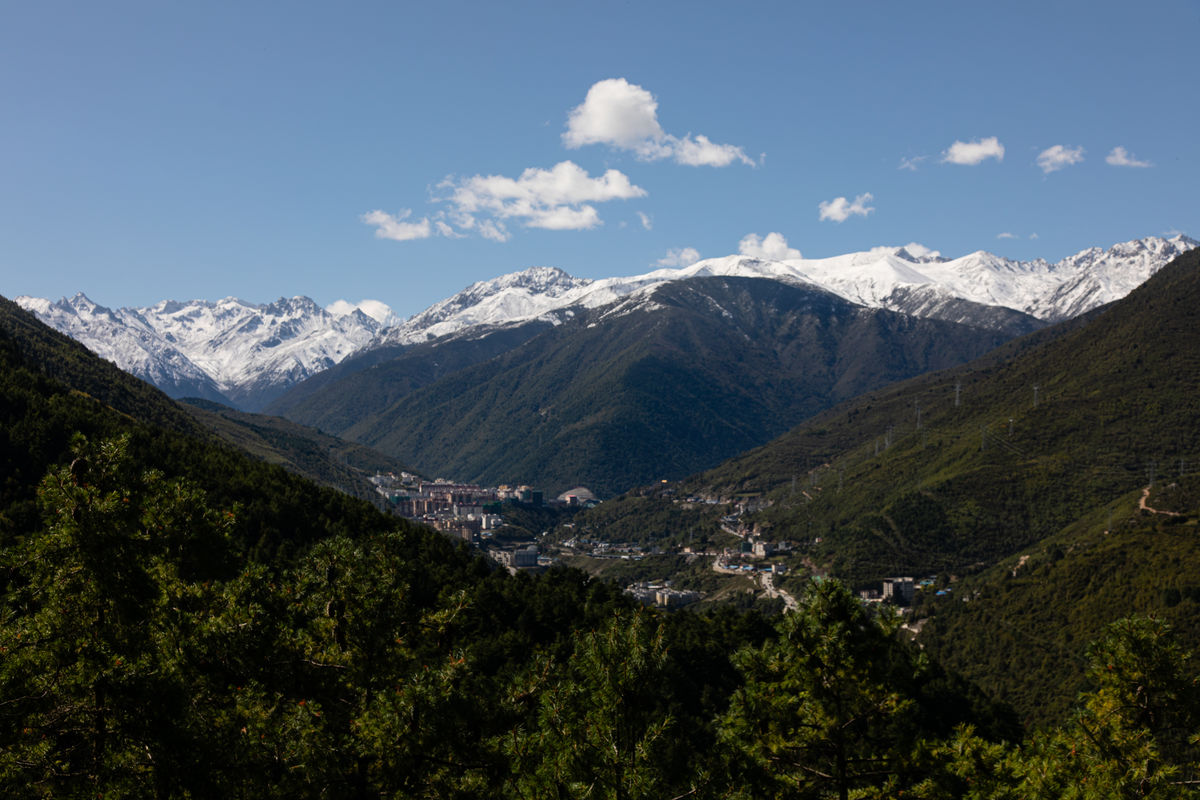 Originally I was looking forward to stay a few days in Kangding again to relax at Zhilam hostel, one of the nicest hostels of my 2015 China journey. Unfortunately just a few days before I arrived there I received a notification from the hostel owner that after 12 years of operating, Zhilam had unfortunately to be shut down. The central government - not the local one - claimed that it was less than 300 meters aways from a government building and since this was not prohibited for foreign owned businesses, it had to be shut down immediately. Since apparently that was not a problem for 12 years and also the owner had good relations with the local government, there might very well be political reasons for this move by the central government.
Since we were stuck for a few hours in a traffic jam, it was already dark when I arrived in Kangding. I started walking to the hostel - recommended by Kris, Zhilam's former owner and owned by one of his former staff - located just 50 meters further up the hill. When I was walking near Zhilam I met Kris' wife and Patru, a Tibetean who used to organise trekking tours for Zhilam. I briefly talked with them and then Patru helped me to find the way to the new hostel. It had just opened a few weeks ago, but looked already very promising with a nice common room and very clean rooms.
The next day I planned to just relax a bit. After the two days of hiking on Emei Shan and then also carrying the big backpack for another 9 kilometers to the bus station of Emei Shan, my left foot hurt a little bit. I also still had to finish a side project back in Germany, which I unfortunately couldn't finish back there. So I went down the hill to the Himalayan cafe to hang out a bit, enjoy a nice cup of coffee and use the Wifi there to get internet working for me behind the Great Firewwall of China. Unfortunately the Wifi didn't seem to work, but I met Gongga there, a Tibetean who had lived for a few years in India and Norway. He told me about the hardships of the nomadic ways of his parents and how until around 2005 still a lot of Tibeteans trekked across the passes of the Himalaya in 27 days out of Tibet to be able to leave China. I told him that I had been staying at Zhilam in 2015 and enquired him whether he knew anything about the closing. He supposed that it might be motivated by the family being Christian and considered to be missionarying, but of course in China one has to often speculate about the real reasons.
Walking back to the hostel I noticed the enormous amount of Chinese flags and a lot of police, clear signs for the upcoming National Day (October 1st). This kind of glorification of the nation always annoys and here, close to Tibet, the police and even military presence seemed to have been increased even more than in the other Chinese Cities.
The next morning I started with organising: Going to the bus station to check the timetable, buying an additional adapter to be able to charge my electrical devices faster. With Zhilam gone and all the annoying national day preparations I did not really want to stay in Kangding much longer, but hadn't decided, yet, whether I would go to Tagong or directly to Ganzi. But since I did not do much sightseeing the last time I was here, I visited some of the monasteries afterwards and climbed up Paoma Shan, a mountain known in China due to it being famed in one of the most enduring folk songs (Kangding Qing Ge - Kangding Love Song). Hiking a little bit further up from the touristic platform I got a much better view over Kangding and the surrounding mountains. While taking a few photos, a local monk, playing on the drums every now and then, invited to sit with him. We didn't really have any way of communicating, but I enjoyed this silent session nonetheless.
On the way back from the mountain I discovered that unfortunately the Tibetean Cultural Heritage Museum apparently had also been closed down. So I went directly to the bus stations, finally having decided to skip Tagong this time and going directly to Ganzi. On the way to the bus station I noticed in a small side street a lot of interesting or funny shop names and took a few snaps.
Since I now had a bit of time left, I went to the Himalayan cafe again. This time Gongga was not around, but instead I noticed some monks playing some kind of shooter on their smartphones. Definitely not the kind of behaviour you would typically expect, but not the first time I experienced such a situation
On my last evening in Kangding I went out for dinner with some Israelis and a translator from England currently helping out in the hostel. Almost all guest in the hostel were from Israel, something not that uncommon in areas more remote than your typical touristic destinations.
The Latest

T