30. October 2015
Xiàhé - The Road To Sìchuān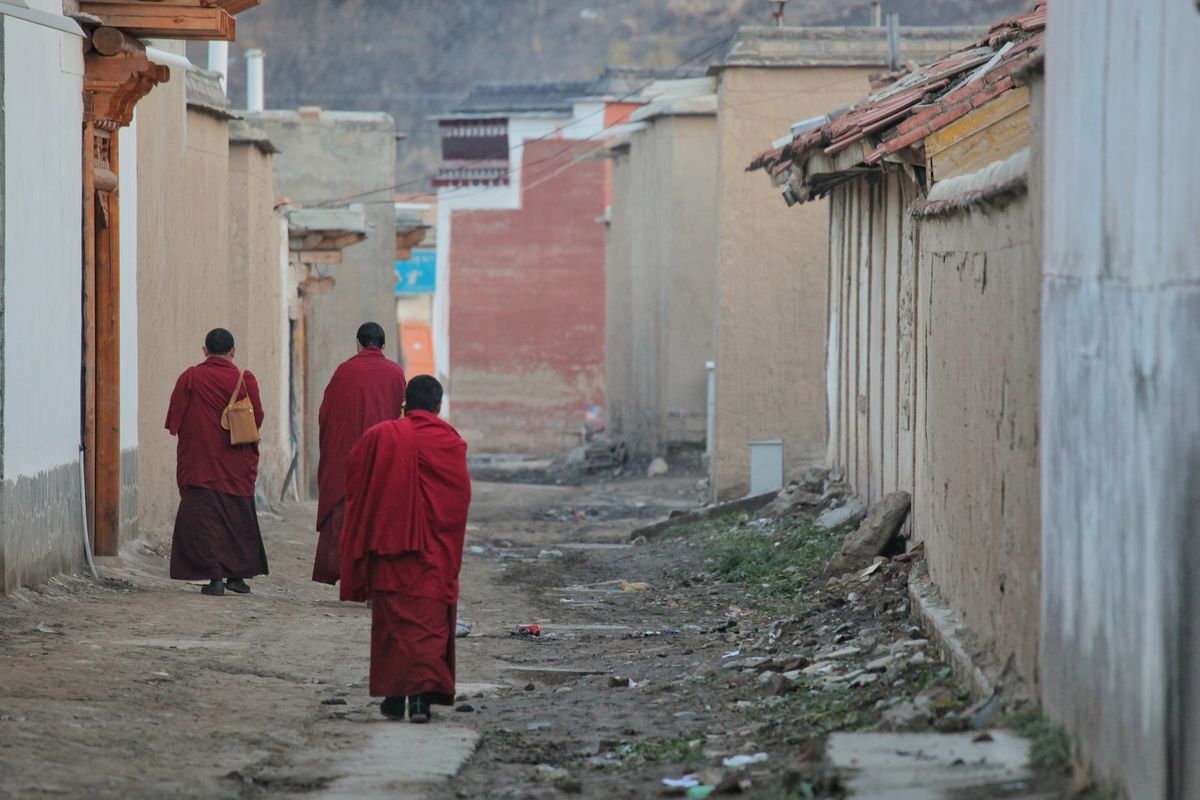 So far there have been not that many changes to my original travel itinerary. Sure, I have spent one days less in Wutái Shān than expected (and one more day in Píngyáo), but the route itself stayed the same. For the second half of my journey there will probably be more changes.
In fact, I already made a major adjustment to my plans in Ordos. Originally I planned to travel to the western province of Qīnghăi and travel through western Sìchuān to Chéngdū. While in general interesting, this route would have meaned that I would have to spend a lot of time travelling by bus – approximately between 50 and 65 hours. After hearing a lot of good things about the national park Jiuzhaìgoū, I decided to take a more direct route and spend some more time in western Sìchuān on my way to Yúnnán.
The first stop on my route still stayed the same. After a long trip by train and bus I finally arrived in Xiàhé. At 2900 meters above sea level it was the first test how well I would be able to cope with increased altitudes. Since the last few cities had all been quite a bit above sea level (Dūnhuáng was the lowest one, at 1150 m), I expected not too many problems and indeed I did not experience any at all. While walking around with my backpack or hiking here I could even barely notice the lower amount of oxygen.
This was of course very welcome, although I had not planned any major physical activities during my short stay in this small city with only 70 000 inhabitants. Xiàhé and its Labrang Monastery is one of the major Tibetan places – even if far outside the borders of the current Tibet province – and the city itself had been closed to foreigners several times in the last decade due to its strong bonds of the Tibetan population to their brethren hundreds of kilometers away.
The monks were omnipresent here and while walking around the monastery the sounds of their humming was only interrupted by the squeaking of the hundreds of prayer wheels on the outside of the temples. The prayer wheels are part of the inner kora – a 3 km long path the Buddhists walk while praying – and following them for some time allows you to easily slip into an almost meditative mood. That being said, not all the monks necessarily behave as most of the Westerners would expect them to: When I went for dinner in a very nice restaurant – at this time of the year almost empty – I also met one who definitely behaved non-monklike by dancing and even rapping.
Apart from the inner kora there is also an outer one, leading up the hills on the northern side of Xiàhé. Although the weather was not very nice, I still enjoyed the views over the valley and the city. From up here one can easily see how Xiàhé is split into two parts. The western – and much more interesting – half of this city is the Tibetan village. The other half is the Chinese part, which is basically like most generic Chinese villages. Separating the two, the monastery with its temples sits inbetween.
After just two nights in this pleasant city and some blog updates during this time I continued my trip to Síchuān. I was a bit in a hurry, since on the one hand the weather was predicted to get worse and also I knew that some travellers which I had met on my trip already would be in Chéngdū in a few days. Therefore I got the early morning bus to Lángmùsì, the next stop.
Originally I had planned to stay here for two days and hike in the surrounding grasslands, but now I just went here to get to the next bus. This was surprisingly easier than expected. This route was not even mentioned in my guidebook and with my limited Chinese skills I almost expected some difficulties in getting on the correct bus. But when I arrived in Lángmùsì and head to a travellers café for some breakfast, they had an offer for the bus I was looking for. After asking them they phoned the bus driver and two hours later they gave me a drive to the road 4 km away. Some minutes later on I saw the bus and flagged it down.
From the bus I enjoyed the scenery near Lángmùsì. It was partially cloudy and partially sunny, giving the landscape an impressive look. Passing green highlands, yak and horse herds in marshlands and snow covered mountains in the distance I planned to visit this region again if I would return to Sìchuān on another journey.
The Latest

T